Terratec EWS64 XL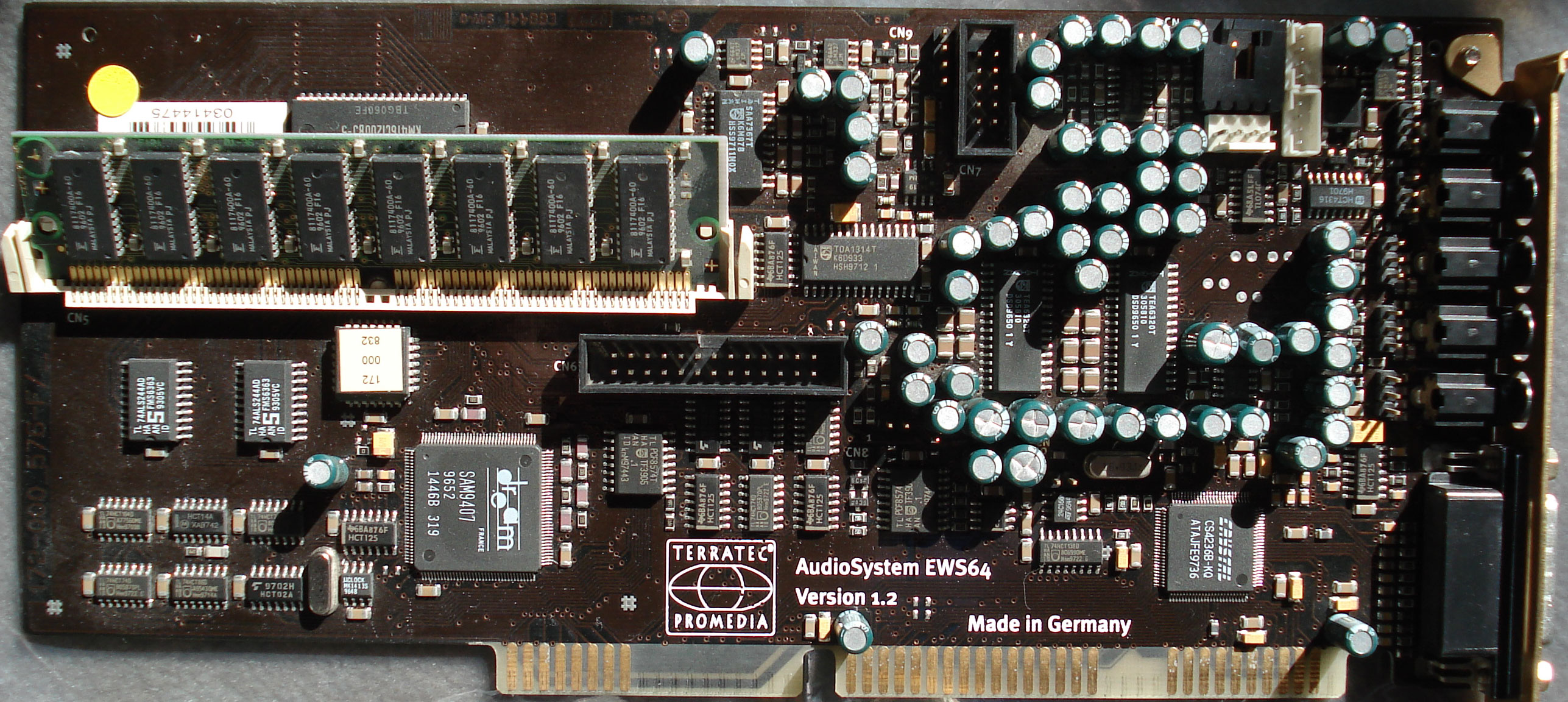 | | |
| --- | --- |
| Name: | EWS64 XL |
| Company: | Terratec Promedia |
| Chipset: | Crystal 4236B, Dream SAM9407, 2 MB RAM |
| Bus: | ISA 16 bit |
| Connectors: | Line-Out 1, Line Out 1, Line-In 1, Line In 2, Mic-In, Game/Midi, Midi 1 In/Out, Midi 2 In/Out, Digital In, TOSLink, 2x Digital Out, CD In, Waveblaster in front panel |
| FCC-ID: | ? |
| Manufactured: | 1996 |
Rev 1.2
'Late' ISA sound card that has basically two chipsets on a single card. The Dream SAM9407 DSP can be equipped with max. 64 MB Wavetable RAM as PS/2 SIMM. 2 MB Wavetable RAM are already on board.
The Codec is a Crystal CS4236B.
Compatibility:
Crystal: SB, SB Pro, WSS, FM synthesis, external Game/MIDI port.
Dream SAM9407: GM / GS + effects
The design is similar to the Maxi Sound 64 Home Studio from Guillemot, but Terratec programmed their own firmware for the Dream SAM9407 and all available In- and Outputs have separate connectors. It is possible to change the internal audio signal routing between the Crystal codec and Dream DSP by software. This makes the card versatile but requires also a bit reading.
Highlights are:
64 channel DSP for Midi/Trackerfile playback, up to 64 MB Wavetable RAM. ( 2 MB RAM on board, no ROM)
max. 32 wave devices in Windows.
2 digital outputs, 1 digital inputs (optical or coaxial) on the 5.25" module
optional Wavetable upgrade (connector in 5.25" module)
2 analog line-in with 16 bit / 48 kHz (Codec) and 18 bit / 48 kHz (Dream)
2 analog stereo outputs
2 duplex Midi interfaces
4 OP+ synthesizer
and much more... (The RTFM marking on the cards back side should be taken seriously.)
Terratec EWS64XL Drivers and Software
Crystal CS4236B datasheet
Wavetable Comparison Recordings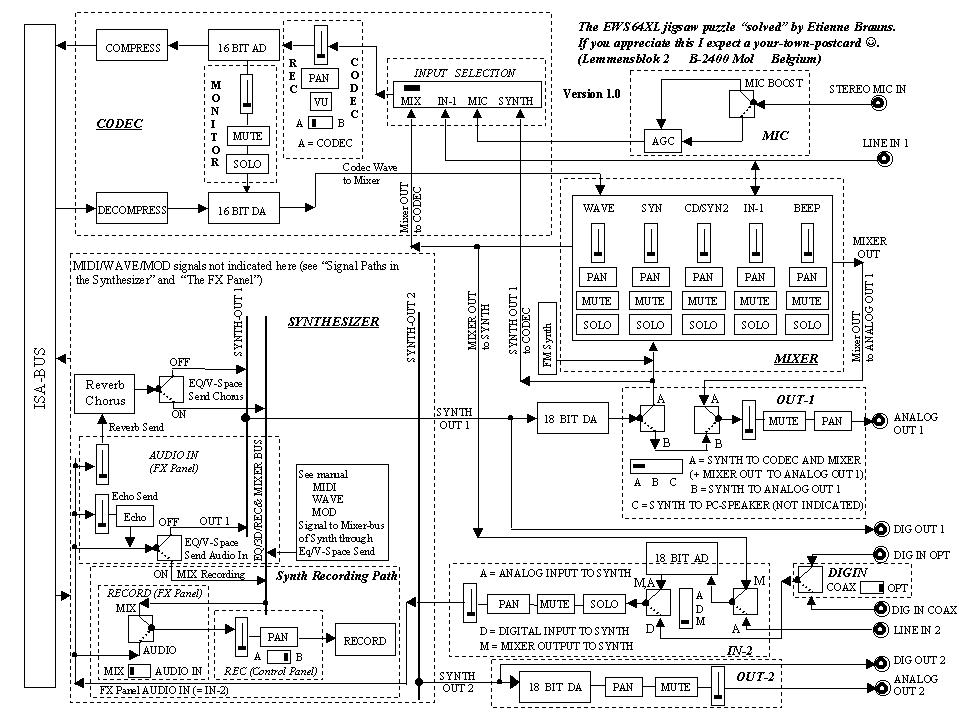 The EWS64XL jigsaw puzzle "solved" by Etienne Brauns
Documentation of the various Dream DSPs