Long Night Of Computer Games 2019
On 11. May the
13. Long Night Of Computer Games
will take place at Leipzig University of Applied Sciences. It starts at 14'o clock and entry is free!
We will also setup a full room of old computers for your leisure.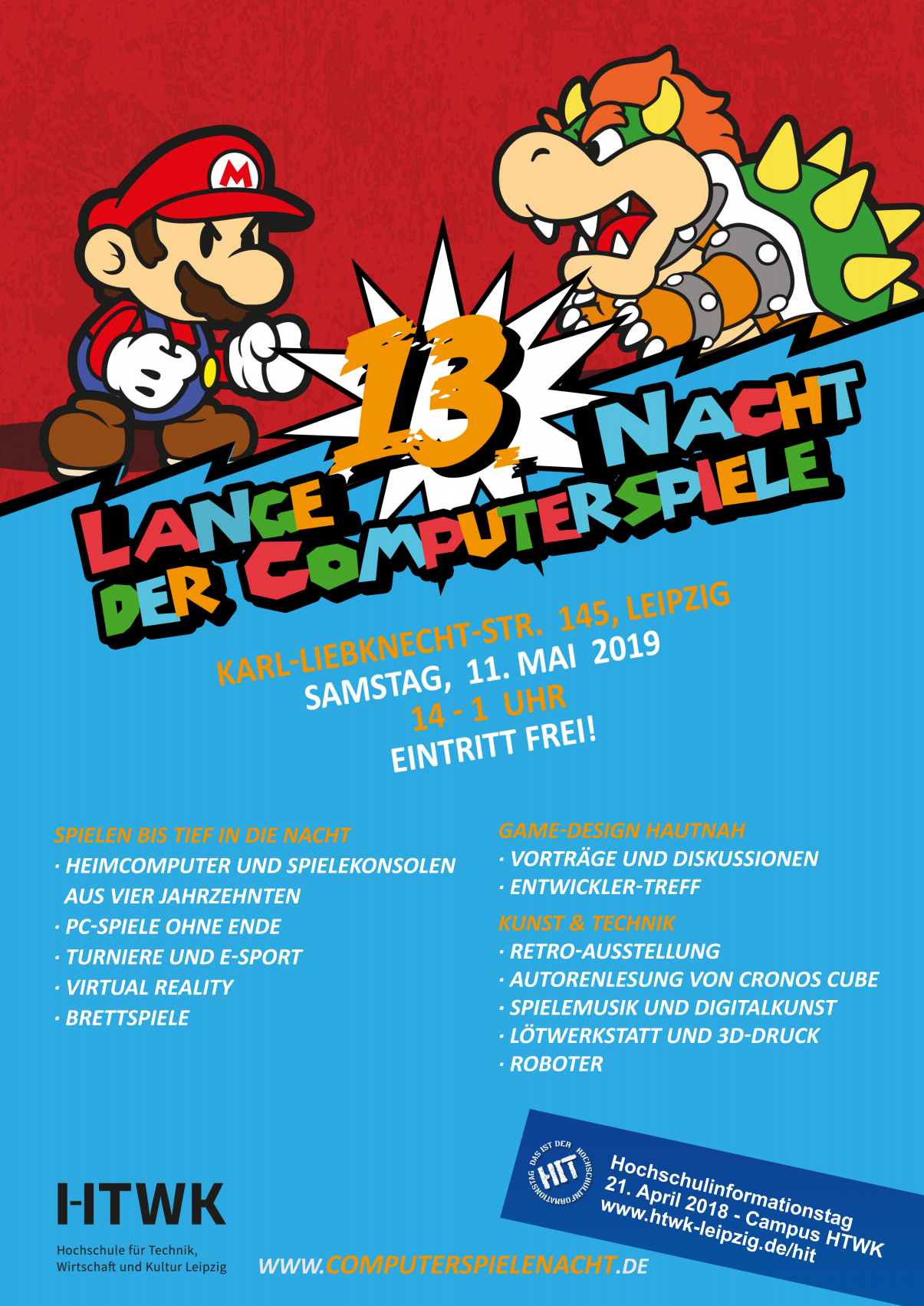 SID Sound Collection
In the Music menu you will find now the
SID Sound Collection
by SID Spieler. He recorded the more than 350 songs from the original Commodore 64 using a noise free setup.
Stay awhile and listen...
Live Stream Recording
On Juni 18. SID-Spieler and me performed the second live stream in cooperation with
Nerds and Geeks
.
Main topics were:
- A look at the VIC-20, Final Expansion and a few games like Moon Patrol, PWP Robotic Liberation
- Sega Megadrive with Pitfall the Mayan Adventure and Overdrive 1 and Overdrive 2 from Titan.
- Interview with Oerg866/Titan about the development of Overdrive 2.
- C64 DTV, DTV Odyssey 2008 Oxyron
- A look at the Return Magazine
- NexGen Nx586
The actual stream starts at 10:36 and was in german.
Long Night of Computer Games 2017
On April 29th we had a full room at the 11th Long Night of Computer Games in Leipzig where we setup vintage PCs. The whole event attracted about 4000 visitors.
Go here to
checkout the Photos and more !
Live Stream Recording
On March 26. SID-Spieler and me performed a live stream in cooperation with
Nerds and Geeks
.
Main topics were:
- Introduction of the
FPGA-SID
drop in replacement for the SID sound chip
- Interview with the developer of the FPGA-SID Andreas Beermann
- Archiving old original disks with
Kryoflux
- mixed news of new (old) games and hardware
- scene demos and music
The stream was in german.
SID Recording Guide
SID-Spieler wrote a
recording guide
for music played on the SID chip used in e.g. the C64. It includes a lot of points to take care of from his long standing experience. The guide is targeted for a consumer level setup.
Also the video captures section was extended and features now additional video pages with selections of
DOS demos
,
Windows demos
and
Amiga/Atari demos
. Of course from real hardware.
The next upcoming events are a meeting with old computers in
Gera (Germany)
on 18th of February where SID-Spieler will attend. Following on the 29th of April there will be the next Long Night of Computer Games in Leipzig where we will contribute as well. Current plans include a full room of PCs from the DOS age that are setup as oldschool gaming machines with the most iconic games. You can find pictures of the previous Long Nights in the Events section of this site.
Merry Christmas and a Happy New Year !
retronn.de wishes everyone a Merry Christmas and a Happy New Year 2017.
For the end of the year I added two video pages with
C64 Intros
and
C64 Demos
.
NexGen System finished
I finished putting together a NexGen Nx586 system.
To the article...
The hardware gallery was updated with a few new pieces as well. Noteworthy might be the
Ensoniq Soundscape Elite
and the
HP Language Processor Board
.
We are at Gamescom 2016
SID-Spieler and me will be present at Gamescom 2016 as part of the Retro Gaming area in hall 10.2. We put up three PCs with old games under the label retronn.de as well as a few Amigas and C64s with old and also new games. One of the topics will be 30 years of Chris Huelsbeck as musician and composer of the Turrican II soundtrack as well as 30 years of Factor 5. Details can be found at the
exhibitor list
(german).
Come and join us !
A few pieces of new hardware
I added a few pieces of new hardware. Most notable is a
Vesa Local Bus system from NexGen Inc. with a Nx586-P90 CPU
. Another interesting piece is likely the
MPEG-1 video accelerator board for the Diamond Stealth 64 VRAM VLB
.
(for Firefox users:
video
)
Long Night of Computer Games 2016
On 30th of April there was the
Long Night of Computer Games in Leipzig
and we setup 13 old PCs with mainly DOS games in our corner.
Video by SID Spieler
Check out the Photos too !
In addition I also updated the
Hardware Gallery
with a few new pieces, like miro graphic cards, a dual tualatin mainboard from ASUS and more.
Easter Update
All of the old Hardware Gallery has moved now to retronn.de. I fixed also a lot of wrong information on card identification as well as technical specs. There are now 643 cards in the gallery.
There is also an overview of my assembled PC systems with pictures and screenshots. This may be used for decisions if you like to build your own retro PC. Additionally there are now some scans of of vintage ads (like Intel Pentium), brochures and pictures from Events such as the
Long Night of Computer Games in Leipzig
. The next will take place on 30th of April.
For your convenience I also implemented under Music an Audio Player with currently two CDs from SID-Spieler. The VIC Sound Collection with the best music from the Commodore VIC-20 and X 2014 with all the SID songs from the X 2014 demo party.
February Update
Got about 50% of the old hardware gallery migrated to the new one. Some cards still miss a detailed description, some photos do not have the quality I would like to see... However driver links work as well as the videos showing cards performing, like the Matrox m3D.
Welcome to retronn.de!
I started this project in early 2016. The page is about old computer hardware, features a hardware gallery and videos captured directly from real old systems. It is currently under construction, however you can already use it as far as the features work.
I am currently migrating the old Hardware Gallery, which will take a while due to the amount of components.
Also the videos work already in Chrome nicely.